Aunt Judy's Attic specializes in great service and wonderful fabrics, in addition to stocking a unique selection of patterns, gifts, and other essential quilting supplies. For your convenience, we also offer professional longarm services to help you finish your quilt tops.
Located in Southwest New Mexico in the fantastic town of Silver City, we host a wide range of classes for quilting enthusiasts of all skill levels, taught by experienced instructors in a casual, no-pressure atmosphere that's very welcoming and supportive. Whether you need a little creative inspiration or you could use some helpful project advice, our friendly, knowledgeable staff members are here to provide you with superior service throughout your quilting journey!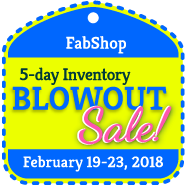 Huge Online BlowOut Sale Going On Now!

Up to 35% Off Fabrics!
One Week Only - February 19 - 23, 2018!
Click here
We are excited about Row by Row Experience 2018 Theme: Sew Musical!
Two great changes happening with RxR 2018:
Patterns and Kits can now be sold IN-STORE ONLY during the Hibernation Period! This is fabulous!
Rows are not just rows anymore! Check out the unique shapes the Rowing Shop Owners are allowed design with:
Get ready to start rowing: June 21st through September 4th!
Row By Row Experience 2017 Theme: On The Go! We hope you have had a wonderful time rowing last year! Looking forward to seeing pictures of your finished quilts!
Click here to post a photo to our Facebook Page...
Thank You!
Row by Row 2017 Patterns are available for online purchase! NEW: Digital downloadable patterns will be available!
All 2016 Row By Row Experience items are now available for purchase in store and online. (Row by Row 2016 Kits have sold out, but printed patterns are still available!)